Big Dog Auto
»
Dynacorn

Dynacorn was founded in 1984 and began as a supplier of sheet metal, trim and moldings for classic muscle car owners. The business has grown rapidly since, and today Dynacorn is one of the leaders, if not the leader, in restoration products for classic muscle cars. Today, Dynacorn uses the most up to date tooling in order to get the best and most accurate replacement parts on the market. Dynacorn also uses the highest quality materials available, including 1006 Universal grade automotive steel in their stampings. This newer steel has fewer additives and allows the welds to come out cleaner and tighter, with fewer gasses being emitted than ever before, yet maintains the quality found in the originals. Another Dynacorn International trademark is the quality of their parts. Every Mustang Dynacorn part features high attention to detail and the latest tooling, so you're getting the best fitting parts on the market. Dynacorn began with a desire to make the finest restoration parts in the industry and that desire grows stronger each day, with every part produced and every new product launched. If your Classic Car is in poor enough shape that it's best to just start over, Dynacorn has you covered. Big Dog Auto carries a wide variety of Dynacorn parts for many vehicles from Mustang to Chevelle to Chevy Pick Up Trucks. All large items ship direct from the warehouse in California or Pennsylvania, depending on your location.
---
Browse Accessories
Products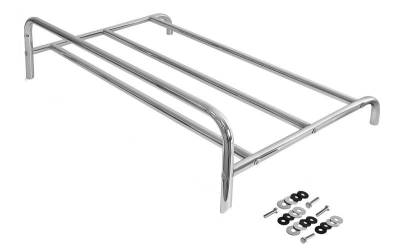 Firebird, Trunk, trunk lid, luggage rack
Description:
Luggage Rack for 1967 - 1969 Firebird from Dynacorn. Fits all GM F Body Style trunks.