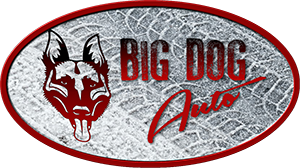 Hot rodders and car enthusiasts the world-over have trusted the name Big Dog Performance Parts since 2013 to provide quality aftermarket products for their classic cars and trucks. While Big Dog's heritage started with offering all-aluminum radiators, due to overwhelming demand from their Customers it soon blossomed into a full product offering of interior, exterior and performance parts.
When the company decided in mid-2016 that it was time to revamp their website, they also decided it was time to expand once again, adding numerous new brands and products for late-model cars and trucks, as well as Jeeps and other offroad vehicles. This expansion led to the birth of not only a new website, but a new name: Big Dog Auto.
Big Dog Auto now offers a huge variety of parts for cars and trucks ranging from 1918 to 2016. New brands include Holley, Edelbrock, Helix, Billet Specialties, Hooker Headers, Flaming River, Ididit, Autometer, Hurst and more. New brands and products are being added daily -- so each time you visit you will find great new products for your ride. They also carry numerous hard-to-find and specialty parts, such as upholstery for Volkswagens and radiators for T-buckets.
As always, Big Dog Auto offers free shipping on orders over $75 (Continental US only) and the most competitive prices on the Net. In fact, many items are priced the same as you would find on Ebay or Amazon. Why buy from a no-name seller on Ebay when you can buy from a company you can trust!
Be sure to sign up for Big Dog's Newsletter so that you will be notified of promotions, sales and other noteworthy news.